Stray dogs even though are all lonely and alone they still have a lot of love to give and can easily become heroes.
After Shannon Lorio got in her car going for a drive after an argument with her husband something happened and changed her life forever.
The woman from Georgia headed toward a road known to have little to no traffic at all and wanted to blow off some steam while she navigated through the windy rural roads.
But what was supposed to be a relaxing drive turned into horror after the woman lost control of her car and ended up in a ditch on the road side after she got thrown through the rear window of her car in the crash.
Her conscience faded in and out of her conscience and couldn't stand up, she was woken up at some point by some hot breath on her face, when she opened her eyes she saw a dog over her.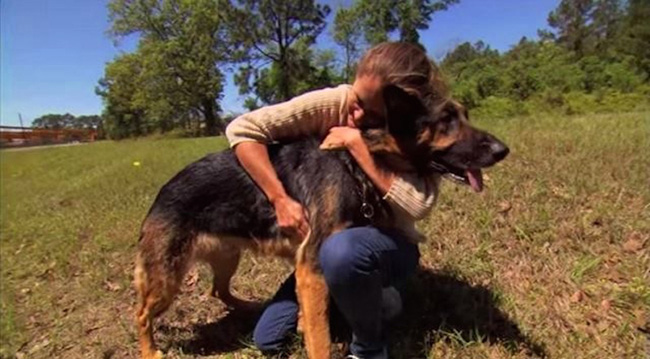 The woman again fell back into unconsciousness and again was woken up by a dragging sensation.
The stray dog that was named Hero later was dragging Shannon from the car wreckage by her jacket.
This amazing furry managed to drag the injured woman 100ft to the road side and she managed to put her arms around the dog's neck and pull herself up.
The woman flagged off a passing car and then the driver contacted 911 and the husband of Shannon.
After going to hospital there it was discovered that Shannon had an intracranial hemorrhage, which if it doesn't get treated may kill her.
If it wasn't for the heroic dog the woman had a high chance to not survive the crash.
The woman couldn't adopt Hero, the German shepherd that saved her life by getting adopted by Heidi Drawdy who is a rescue trainer and a search canine according to iheartdogs.com.
The hero is truly a hero and we are thankful for him.